About Us
The Denton Main Street Program began when the City of Denton received it's designation as a Main Street City in 1989. The city has since celebrated numerous marked physical and financial improvements in the area. Over $132+ million has been reinvested in the downtown Denton area since our humble beginnings.
The Denton Main Street Association (DMSA) is a 501(c) 6 non-profit organization. The DMSA works in cooperation with the City of Denton's Downtown Development Department. The DMSA works on year-round promotion, advertising and several events for downtown Denton that are funded by sponsorship and memberships from the private sector. Downtown management in Denton is truly a public-private partnership.
The DMSA Board of Directors depends on sponsors, members, grants and volunteers to make it all happen. To join the Denton Main Street Association, simply click here.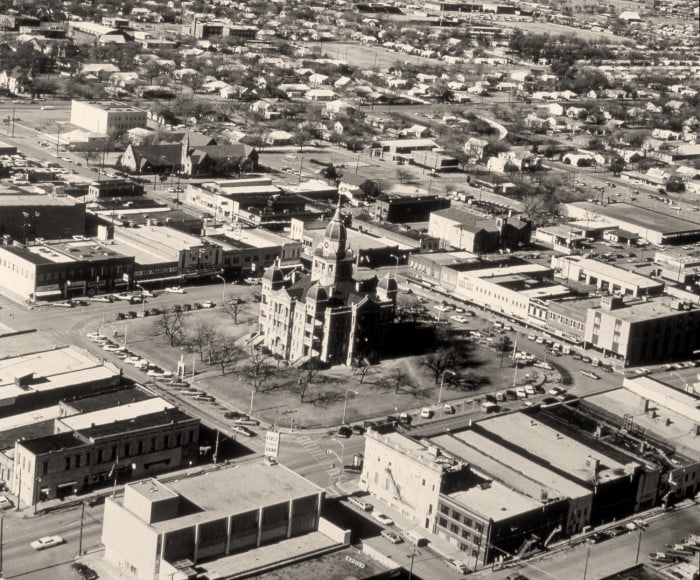 Downtown Denton
The first Courthouse restoration was completed in time for the Texas Sesquicentennial in 1986. The overwhelmingly positive response to the Courthouse renovation confirmed to the merchants that there was a need for an organized downtown revitalization program. The merchants and community leaders attended conferences on downtown revitalization, visited other communities, talked to professionals and lobbied their City Council members. In October of 1989, the City of Denton funded the Main Street Program and appointed the Downtown Development Advisory Board to oversee its progress.
That year, the Texas legislature allocated funding for an Urban Main Street Program, making it possible for cities with populations of more than 50,000 to participate in the state program. Denton applied, was selected, and began its association with the Texas Main Street Program in January
1990. Since then, the Central Business District has officially become the Denton Main Street Association. Membership has increased over 400% and shows incredible broad-based community support. The Main Street Program has high visibility and its mission is recognized and understood by most of the community.
Public and private sector commitment to the downtown revitalization process continues to increase.
Make a Difference in Denton
Our mission is to ensure that Denton's Historic Downtown continues to be the heart of our community. The Denton Main Street Program, through the combined efforts of public/private partnerships, preserves and markets the downtown area as a community treasure, focusing on historic preservation, continuing reinvestment, and developing heritage tourism. Together, we can preserve Denton's great history and promote its bright future. Denton Main Street Association strives to maintain Denton's downtown area as the focus of the community where history is preserved, businesses thrive, and citizens and visitors dine, shop, live, and enjoy the arts and entertainment.
Join Now! Individuals or businesses may join Denton Main Street Association. Applications are good for one year from the date joined. There are levels for all to join. Businesses need to join at the Bronze Level or above to receive great, exclusive benefits and exposure to market and promote your business in downtown.